Root Canal Treatment Can Save Your Tooth
When decay advances to the inner tissue of a tooth, or when trauma exposes this tissue, a simple filling procedure is not enough to restore dental health. A root canal is a more extensive treatment that can save and restore teeth affected by advanced decay or trauma. We use modern techniques to make this procedure gentle and comfortable. It provides substantial relief, and can eliminate the need for extraction. Dr. Jeffery A. Hennigan uses advanced techniques to remove decayed tissue, preserve healthy tissue, and restore your tooth with a custom crown made specifically to match your teeth. Contact Lake Area Dentistry to learn more about how root canal treatment at our Lake Charles, LA, practice can benefit you.
If you are experiencing symptoms of advanced decay, or if you have suffered dental trauma, it is important to seek treatment as soon as possible.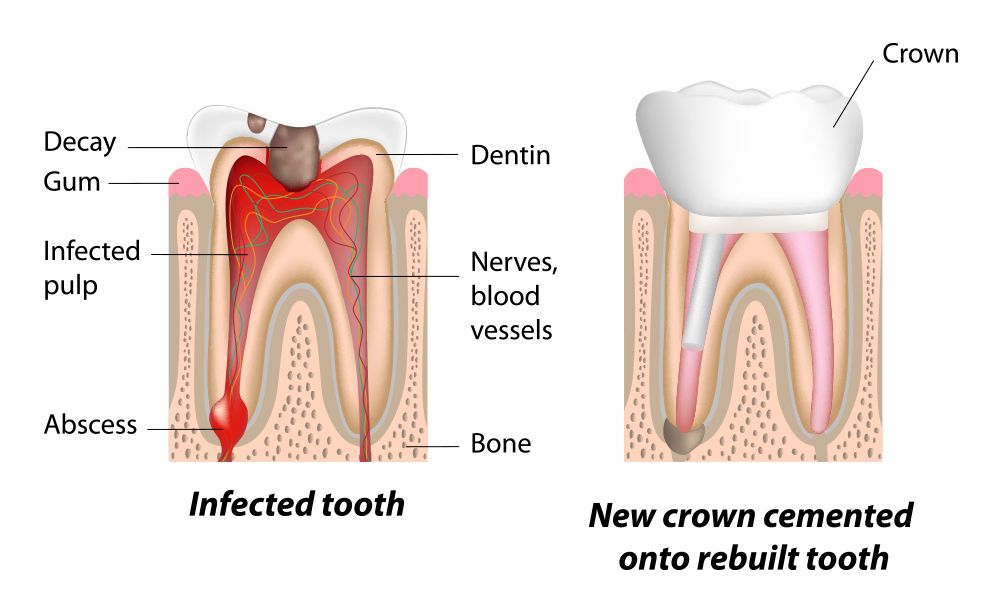 What to Expect during Root Canal Therapy
During a root canal, your dentist will numb your tooth and gums. Next, he will create a tiny opening in the top of your tooth. Through this access point, he will completely remove the pulp (nerves and blood vessels) from within your tooth and root canals (the narrow chambers at the center of your tooth roots). Next, the dentist will thoroughly disinfect these areas before filling the tooth and root canals with a rubber-like substance, and sealing the entry point.
To complete the procedure, your dentist will place a crown onto the treated tooth. To create the crown, your dentist will first take impressions of your tooth, which will be sent to our partner lab. The ceramists will use these impressions to design and create a crown that will blend with your smile. It will usually take at least two weeks to receive your crown, but we can provide a temporary restoration while you wait. When your crown is attached, you can enjoy a beautifully restored smile.
Root Canal Candidates
In some cases, advanced tooth decay presents no symptoms. However, in most instances, infected teeth result in symptoms including:
Toothache
Sensitivity to heat or cold
Facial pain
Swelling
Internal discoloration
Chronic bad breath
Gum abscesses
I have been a patient at Lake Area Dentistry for 10 years and high recommend them. Dr. Bray and Dr. Hennigan caring, highly technical and absolutely know what they are doing. Their concerns for their patients is sincere and always in the forefront of their work. The Staff at Lake Area Dentistry are all top professionals. I highly recommend Lake Area Dentistry for your family dentist.

- July 10, 2015 - Daniell, Lake Charles
Why Is Root Canal Treatment So Important?
In some cases, root canal therapy is the only viable alternative to extraction. Whenever possible, our dentists will try to save your tooth. We offer a number of advanced restorations, but we prefer to help patients retain biological tissue. However, if extraction is necessary, we can replace the tooth with dental implants and restorations that can restore function and aesthetics while halting the bone atrophy that occurs in the absence of tooth roots.
If you are experiencing symptoms of advanced decay, or if you have suffered dental trauma, it is important to seek treatment as soon as possible. Bacteria multiply very quickly, and they can easily destroy your tooth and surrounding tissue. With our timely, gentle care, we can relieve your toothache and help you maintain oral health.
Contact Us for More Information
If you are suffering with a tooth compromised by advanced decay or trauma, we are here to help. Contact us today to schedule an appointment.